Lanterne Dx to Present Innovative Multiplex Data at SITC 2021
Boulder, CO (November 9, 2021) – Lanterne Dx, LLC, announced today that new data generated in partnership with Akoya Biosciences will be presented at the 35th Annual Meeting of the Society for Immunotherapy of Cancer (SITC), November 10-14 at the Walter E. Washington Convention Center in Washington, DC and virtually.
On Friday, November 12th, Lanterne Dx will present a scientific poster titled, Advanced Understanding of the Tumor Microenvironment with Multiplex Immunofluorescence. As immune profiling is becoming an important tool in immunotherapy, biomarkers that detect the tumor and tumor microenvironment allow for the development of strategies that accelerate the development of treatments that enhance a patient's immune system. As a collaborative effort with Akoya Biosciences, Lanterne Dx will demonstrate the use of the MOTiF™ PD-1/PD-L1 Panel kit in multiple tissue types.
"Partnering with Akoya Biosciences is key for our continued growth and innovation at Lanterne Dx. Providing our clients with the most enhanced multiplexing technology to offer improved tumor microenvironment understanding and the highest quality data is at the forefront of this partnership." said Navi Mehra, Lanterne Dx's Director of Operations.
Applying innovative technical expertise and a flexible, customer-centric approach, Lanterne Dx improves patient care by partnering with translational science leaders to reach critical drug development milestones through well-designed clinical programs and customizable biomarker analysis.
For more information about Lanterne Dx and activities at SITC 2021, please visit lanternedx.com.
About Lanterne Dx
Lanterne Dx is a full-service clinical histopathology CRO offering medically relevant diagnoses and clinical research services to the pharmaceutical, biotech and academic communities.
Lanterne Dx's capabilities include qualitative and quantitative immunohistochemical, immunofluorescent, in situ hybridization, and microscopic applications. We deliver pre- and post-intervention analysis of clinically derived materials for diagnostics and characterization of anti-tumor efficacy endpoints. As a valuable compliment to the IHC services, Lanterne Dx also offers the latest imaging technology with Aperio AT2 high-throughput slide scanners, fluorescent whole-slide scanners and the well-respected, and versatile Visiopharm image analysis software.
From routine and specialized histology support to optimized or custom protocols for your IHC, IF, and ISH needs (monoplex or multiplex), Lanterne Dx can provide you with the most critical data for your biomarker strategies.
Lanterne Dx to Exhibit and Present Poster at SITC 2021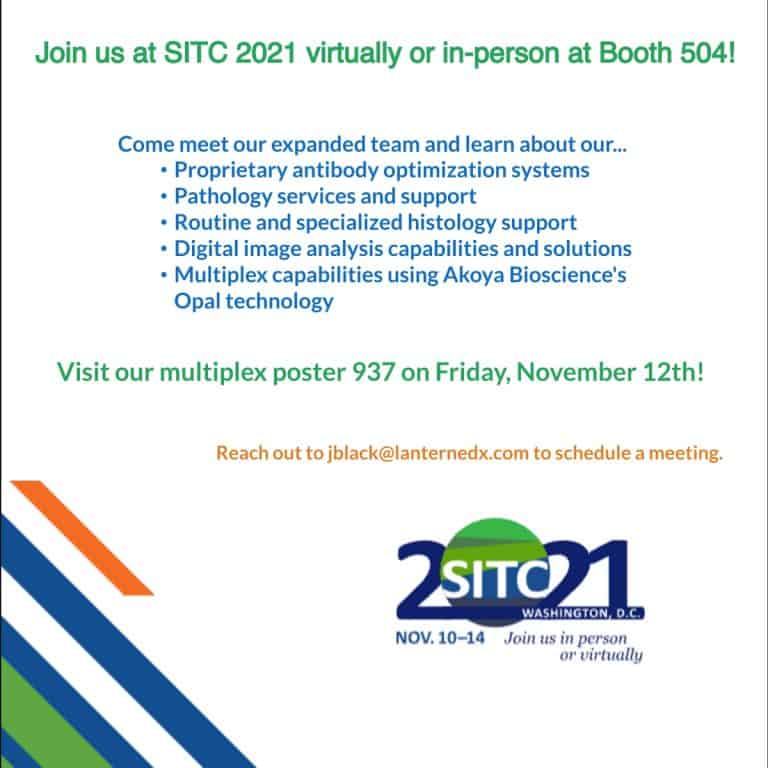 HTL Clinical Announces Name Change to Lanterne Dx
Lanterne Dx remains committed to growing our capabilities to support routine and specialized histopathology, IHC/ISH, and digital pathology services. Our team of experts is comprised of board-certified DVM and MD pathologists, trained histotechnicians, PhD scientists, project managers, and hands-on upper management. With our primary focus in oncology and translational science, we provide substantiated expertise in clinical trial services and laboratory diagnostics to enable confident, data-driven decisions.
There is an ongoing commitment to operate in a highly efficient manner to save YOU time and expense. Our team understands the importance of your programs and is focused on doing what it takes to deliver exceptional quality on a timely basis.
Did you know what industry sector finished second to Silicon Valley for Venture Capital startup funding in 2018? Pharmaceutical and biotech startups!! Venture capitalists invested
Read More »
Reach out to get the latest in pricing and services.